Choo Choo Hemp – Dispensary Review 2023
---
Here we go again, another exciting journey into the world of dispensaries! Today, I'm taking you on board the Choo Choo Hemp. Does the name ring a bell? Oh dear, my friends, it's time to remedy that, for here we are in a dispensary that smells of good cheer and a warm welcome, one of those places you dream of lounging in.
Choo Choo, en route to cannabis nirvana, the train is about to leave the station!
As usual, I conducted my own little investigation of the dispensary, wearing my spy costume for a visit in incognito mode, to ensure the most impartial judgement. I can't wait to share with you my colorful review of the ganja version of Alibaba's cave: the famous Choo Choo Hemp!
---
---
| | |
| --- | --- |
| NAME | Choo Choo Hemp |
| MAIN ADDRESS | 108/4-5 Sukhumvit 49 Watthana district, Khlong Tan Nuea, sub district, Bangkok 10110, Thailand |
| OPENING HOURS | 10:00AM to 01:00AM |
| MY REVIEW | 4,8/5 |
---
Exclusive Coupon Code Available at Choo Choo Hemp
Exciting News! As a token of appreciation for our readers, we've negotiated an Exclusive promo code just for you, granting a whopping 25% OFF on your first order at Choo Choo Hemp store with the code CHOOCHOO25.
To avail this offer, you'll need to enter their loyalty program. Fret not, it's a breeze to get on board. All you need to do is trot down to their store and bring along your passport. And here's the cherry on top: there's absolutely no limit on your first order, which translates to no cap on your discount amount. The sky's the limit!
Imagine the stash you could haul back, without burning a hole in your pocket. It's a golden opportunity to dive into the exquisite range of strains that Choo Choo Hemp has to offer. So what are you waiting for? Venture down to Choo Choo Hemp, become a loyalty member, and embark on a remarkable cannabis journey while enjoying a hearty discount on your initial haul!
---
The Dispensary
It was a pal who, strolling through Sukhumvit 49, came across a giant Choo Choo Hemp poster and couldn't help laughing when he saw the name. "Choo Choo?" I asked myself, like the sound of a locomotive? A brief look at the official website and logo confirmed the railway reference.
My curiosity piqued, I immediately wanted to visit it. So I set about my ritual of exploration, beginning by observing Choo Choo Hemp's environment and then the atmosphere that reigns there.
Environment
Choo Choo Hemp is located in a very pleasant part of Bangkok, on Sukhumvit 49. For those familiar with the area, it's just across the street from Samitivej Sukhumvit Hospital.
It's a popular area for globetrotters and locals alike, as it's quiet and well served. Indeed, from Phrom Phong BTS station, it takes just 20 minutes on foot to reach the Choo Choo Hemp weed dispensary. I used the services of a motorcycle cab, which cost me less than 50 THB for a journey of just 10 minutes.
And best of all, Thong Lo Avenue is only an 8-minute walk away. This is interesting information, as I know that many of you, dear readers, live in the Thong Lo district.
Choo Choo Hemp is a well-located little gem, a stone's throw from the BTS, right in the heart of Sukhumvit. It's a dream location that opens its doors, without fuss, to tourists and locals alike. Ah, the good life!
Atmosphere
When I first entered the Choo Choo Hemp premises, I immediately thought I was going to feel at home. It reminded me a little of the Amsterdam Cafe on Sukhumvit 11.
Here, however, there's none of the flashy fuss that some shops love to make. No, this is authentic territory. To tell you the truth, I felt like I'd stepped into a neighborhood bar, one of those where you feel at home, at ease, in a snap of your fingers. At last, an atmosphere that thrilled me. Less than five minutes on the premises, and I was already a fan!
The place is bursting with little treasures everywhere. A bevy of things to observe and read. It's a little corner of paradise, a sort of Ali Baba's cave where you're sure to unearth some nuggets.
Chatting with the staff, I learned that the place had opened its doors in August 2022, almost at the same time as the first whiffs of the legalization of medical cannabis in Thailand. Interestingly, the establishment welcomes you every day, without exception, from 10:00 a.m. to 01:00 a.m. For wake-and-bake aficionados like me, who like a mild banger to start the day, this is the dream spot!
In fact, that's what I did the day I visited Choo Choo Hemp. First I chose my weed (more on that in a moment) and then I sat down on the table opposite the counter, the famous "rolling station". Here you'll find all the accessories you need to roll joints:
Rolling sheets,
Filters,
Grinders,
And more.
TRY IT – I should also mention that Choo Choo Hemp has a lovely relaxation area on the second floor, nicely decorated, where customers can sit on comfortable sofas and even pick their tunes. It's a really nice place to meet people and get to know the community. I've been back a few times since and it's always busy. Choo Choo Hemp is becoming more and more popular!
The Weed at Choo choo Hemp
So, you get the idea that I fell in love with the shop itself. But what about the weed now? After all, that's what it's all about, isn't it?
Strains' Selection
Ah, for those of you who've been going around in circles before making up your mind… how can I put this gently? You're in for a real treat! The range of strains is simply mind-blowing. As a hunter of rare cannabis gems, I found myself in paradise.
As soon as you enter the shop, a counter adorned with glass jars greets you. The buds are visible, and the jars are easy to open. A godsend for curious nostrils. Yes, I love smelling aromas!
I didn't count them one by one, but on the counter, there must be a hundred jars, so a hundred different strains. It's outstanding. I was able to sniff out some incredible weeds like Purple Congo Snow Diamond, which I'd never come across before in Bangkok, or Sativa Michelangelo. Frankly, when it comes to the choice of cannabis flowers, I say bravo.
And let's talk about this counter. It's imposing, generously stocked with ganja. The best part is that all the pots are well displayed, making it easy to choose. With such a wide selection of cannabis, Choo Choo Hemp has made its way straight into my Top 20 of the best dispensaries in Bangkok, without a shadow of a doubt!
MENU – By the way, for those of you who can't wait to discover the strains on offer, Choo Choo Hemp has put the menu online right here for you.
Quality of Products
Time for the big debate: the quality of the weed. Obviously, I haven't had the chance to taste all the strains yet – there are far too many! Nonetheless, I smelled a good bunch of them, and they all seemed perfectly mellow, fresh but not damp, in short, ready to be smoked.
The day I reviewed Choo Choo Hemp, I was tempted to buy three strains:
Amnesia Haze, because it's a legend and the taste is to die for.
Lemon Berry, which I tried straight away and loved, especially as it's descended from the noble Lemon Thai lineage that I cherish.
Lilac Diesel, because it's one of Choo Choo Hemp's bargains and I wanted to see what it was all about.
VERDICT – Right on the money! In all honesty (you know me, I don't mince my words when things aren't going well), Choo Choo Hemp pampers its strains before putting them on display. Of the three varieties I tested, all were top-notch. Not a single bud was too dry. The aroma and flavor were preserved to perfection.
I concocted myself a little joint of Lemon Berry and was won over. That touch of fruity citrus is a treat. I followed up with a joint of Lilac Diesel. Well, halfway through, I was already on cloud nine. It's clear as day, the weed is top-notch at Choo Choo Hemp.
Pricing and Value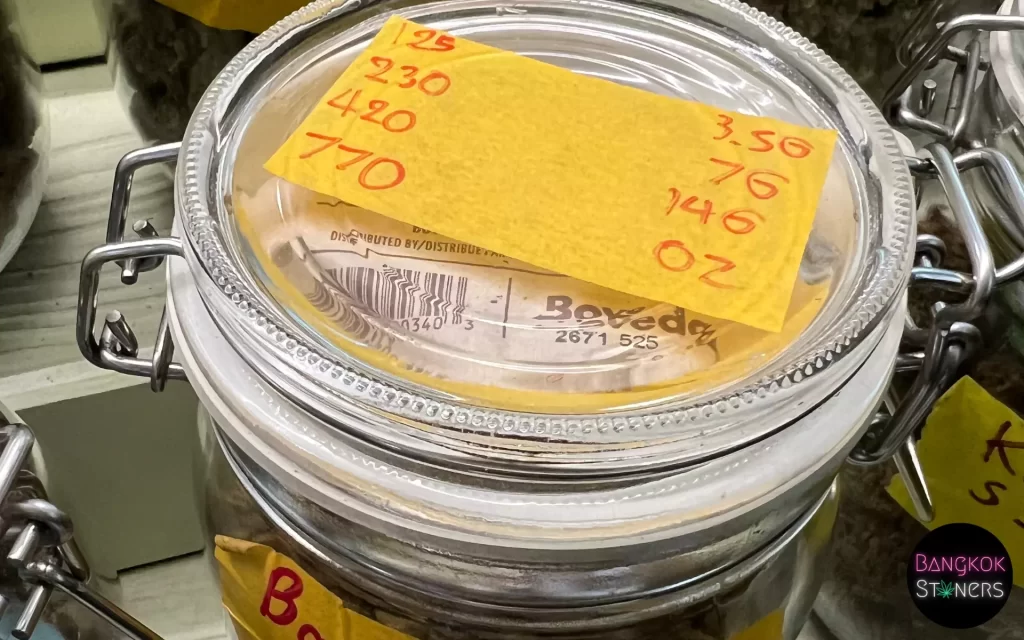 When it comes to pricing, let me be clear, Choo Choo Hemp is a dispensary to suit all budgets.
If you want cheap weed, you'll find it here. Prices start at 80 THB a gram, with little gems like Cinderella Jack and Powerplant. Then there's a whole range of strains that don't break the 150 THB a gram barrier. Really affordable.
At Choo Choo Hemp, there's no question of cutting back on quality because it's affordable. Even the budget buds are up to the task, with their distinct aromas and taste that never disappoints.
Then there's the heart of the range, at between 180 and 400 THB per gram. And here we're talking about a hefty package of some fifty varieties. Nothing but the best, with stars like Silver Haze, which I love, Fire OG, Vanilla Ice Cream, Mandarin Cookie and many others. In fact, I've set aside a little list for you to peruse on my dedicated Weed Menu page.
And if you're the kind of person who's rolling in gold and wants to make a royal killing, I'd steer you towards the Snow Diamond range at 2000 THB per gram. Now that's heavy stuff! Don't forget, you can get 25% OFF thanks to my EXCLUSIVE COUPON CODE!
So, to sum up the situation at Choo Choo Hemp:
A wide variety of weed,
High-quality buds,
Prices to suit all budgets.
Choo Choo Hemp is a pleasant surprise. It's definitely become one of my favorite weed spots on Sukhumvit.
The Staff at Choo Choo Hemp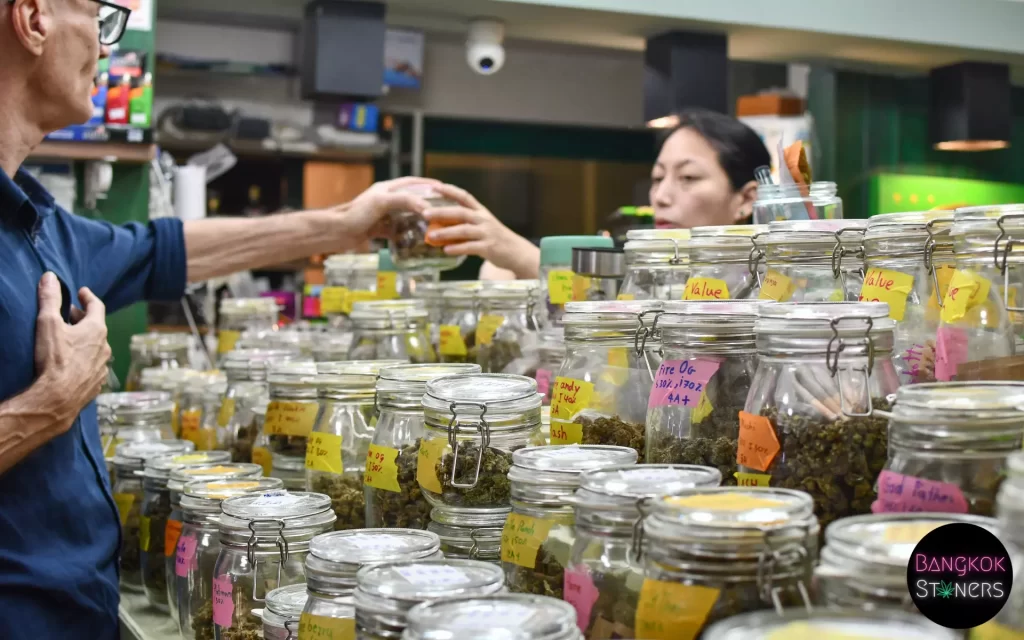 One thing I've learned from my time at Choo Choo Hemp is that customer experience is very important, and the staff understand this.
As soon as I walked in, I was greeted by a dynamic team. In all, there are 7 staff members: Max, Ink, Kate, Pom, Nick, Nat and Whan, a bunch of Thai enthusiasts as friendly as they are educated about the art of cannabis. More than just knowledge and friendliness, they have that authentic charm that makes you feel at home.
During my visit, I asked quite a few questions about strains, and it was Kate who came to my rescue. With a reassuring smile, she took the time to dissect the differences between the varieties, to understand my tastes and expectations.
It was like talking to an old friend who knew exactly how to guide me. With exemplary patience and remarkable expertise, she steered me towards Lemon Meringue, which turned out to be exactly what I was looking for.
But the human adventure didn't stop there. Max, the captain of this green boat, spent some time with me, shedding light on the history and mission of Choo Choo Hemp. Our conversation was as enjoyable as it was informative, flirting between the history of available strains and the vision of the dispensary. It wasn't just a sales talk, it was a genuine exchange, the kind that enriches and creates a real connection.
FACT – Max and his team don't just sell weed, they offer an experience, a moment of sharing and discovery, something you take with you long after you've left the premises.
At Choo Choo Hemp, the customer relationship transcends the simple transaction, weaving itself around a shared passion, creating an atmosphere where every visitor is a guest of honor, every question finds an attentive ear and every purchase becomes an exploration.
It's an escape into the world of weed, guided by warm and knowledgeable ambassadors, which, in the cannabis ledger, makes Choo Choo Hemp a must for connoisseurs and novices alike searching for a memorable experience.
Additional Services
I get the impression that selling weed isn't enough to set Bangkok apart from other dispensaries. Let's see what Choo Choo Hemp has to offer.
Loyalty Program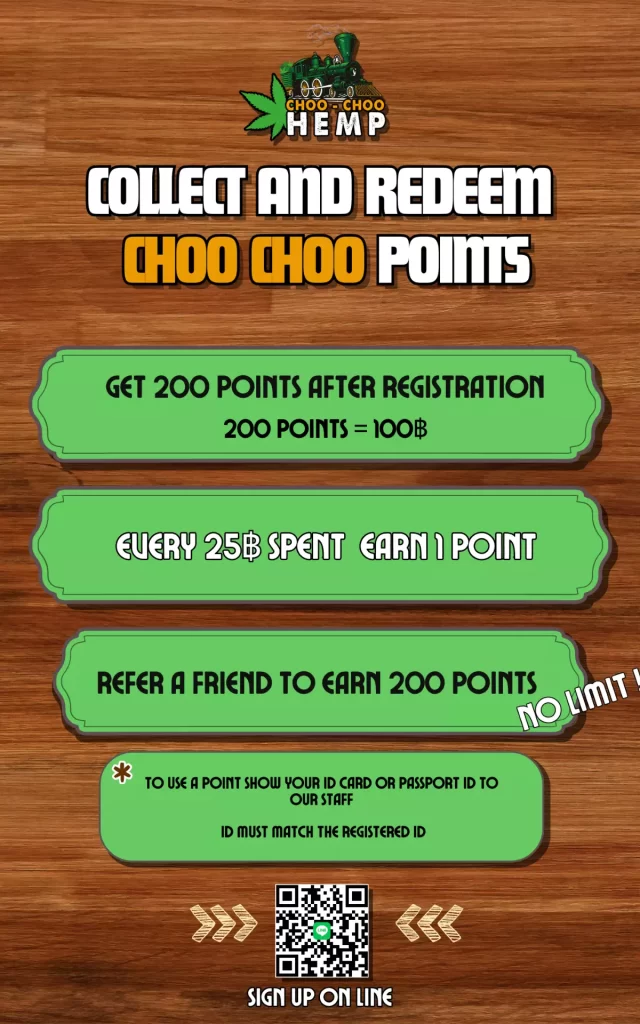 Ah, the sweet reward of loyalty! At Choo Choo Hemp, we know how to thank those who show their love for the shop, and it's through a well-crafted loyalty program that the brand expresses its gratitude.
So, of course, curious and eager for benefits, I promptly signed up as a dispensary member, which immediately earned me 200 points. A sweet start, don't you think? Every purchase I made after that only added to my capital: for every 25 THB I spent, I got another point in my kitty! These precious points are then convertible into discounts on weed, making every visit to Choo Choo Hemp a little more euphoric.
And because there's strength in numbers, or in this case, points, the loyalty program is all about camaraderie. Invite a few friends over, and you'll earn an extra 200 points. And the best part? It's unlimited! So every time you invite a friend, your points counter goes into overdrive. If your relationships are as dense as Choo Choo buds, you're on a cloud of discounts! To put it simply, 200 points will clear 100 baht off your next transaction, which is no mean feat.
ADMIN – Please keep in mind your passport on your first visit to check in. A quick formality for a long journey of discounts and bargains!
The loyalty program, the warm welcome, the discounts, the gifts… Choo Choo Hemp isn't just a dispensary, it's a community that knows how to cherish its members. A friendly atmosphere and benefits galore, what more could you ask for?
Weed Delivery
Ah, modernity! Choo Choo Hemp isn't just a green oasis in the heart of Bangkok, it's also a state-of-the-art dispensary that brings weed right to your door. Indeed, their delivery service is as efficient as it is operational from 10am to 1am.
Living the experience, I decided one fine day to place an order from a friend's house near Wat Don Cemetery. Smoking gives you an appetite, so I let myself be tempted by 2 grams of the delicious Hawaiian Haze, a variety renowned for its tropical fragrance and sweet taste.
In less than an hour, precisely 49 minutes later, the doorbell rang, and I was in possession of my precious package, delivered with a smile and… surprise, cool stickers as a gift! A little extra that shows their attention to detail and their desire to create a real relationship with their customers.
BY MAIL – For all my readers who are not in Bangkok, you can receive your dose of happiness by post anywhere in Thailand. You'll just have to wait between three and five days to unwrap your treasure.
Weed delivery in Bangkok is a service every dispensary should provide. Think about it when you choose your favorite cannabis dispensary in your city. Because when you won't feel moving your ass from the sofa, you'll be happy to get your weed anyway.
Social Events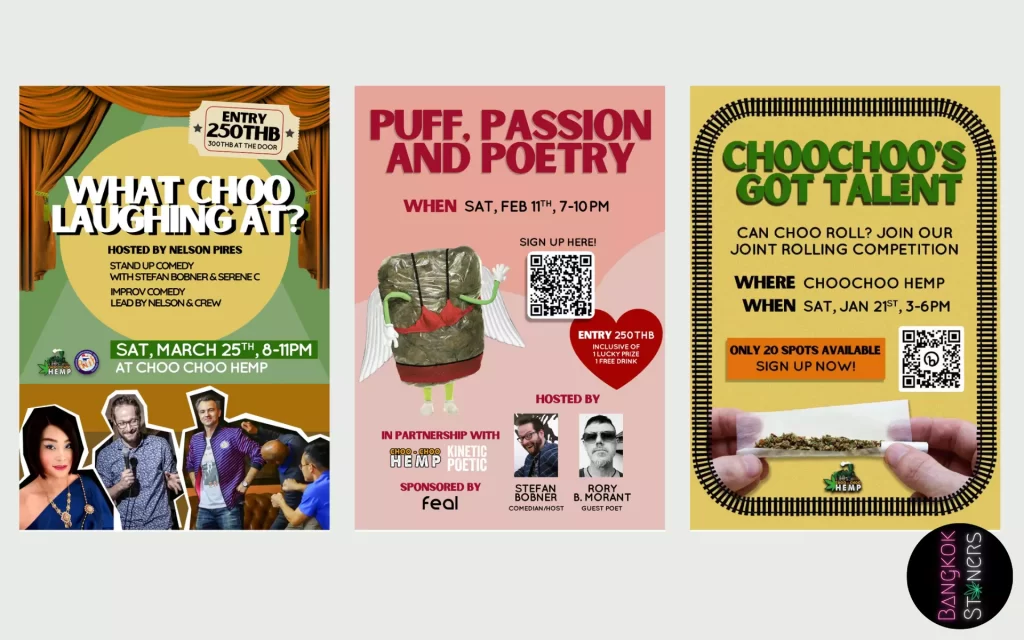 You know, there are places that don't just sell quality weed, they also cultivate community spirit, and Choo Choo Hemp is a good example. There, cannabis isn't just a product, it's an excuse to meet, exchange and celebrate.
From time to time, the dispensary's doors open for themed evenings. And this, my friends, is no hackneyed classic! Imagine open mic stages where everyone can share their talents of all kinds, against a backdrop of sweet cannabic aromas.
Or joint rolling competitions where the most nimble fingers compete for the limelight. It's original, festive and terribly convivial!
These evenings are the perfect opportunity to meet the community, forge links, share laughs and heated discussions about a common passion, the beautiful green. It's the perfect embodiment of what cannabis culture should be: inclusive, joyful and a little mischievous.
I advise you to stay tuned to my website, so you don't miss any of these events. Announcements of upcoming events will be relayed on this page. So you can join the party and enjoy some unforgettable moments in good company.
Reviews and Reputation
After my first visit to Choo Choo Hemp, I had some fun Googling customer reviews. Unsurprisingly, it's a no-brainer. At the time of writing, here's the data:
636 reviews registered
5 stars every time
Bravo Choo Choo Hemp!
My Opinion on Choo Choo Hemp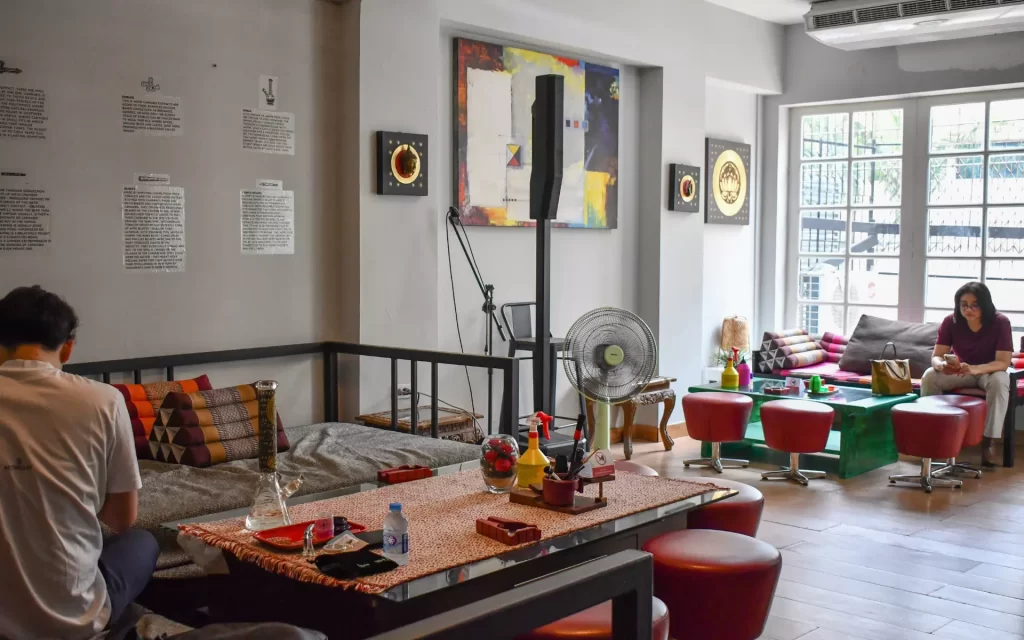 Choo Choo Hemp is much more than a dispensary; it's a celebration of cannabis culture. The team, with stars like Kate and Max, makes every visit rewarding and personal.
The quality of the cannabis is unquestionable, and the loyalty program enhances the customer experience by offering discounts and rewards. The social events held here are the icing on the cake, creating a vibrant community atmosphere.
If you're looking for a dispensary in Bangkok, Choo Choo Hemp is where excellence meets passion, a place I highly recommend for an authentic and friendly cannabis experience.
FAQ
Would it be possible to buy cold drinks while staying in the lounge area?

Yes, of course. There are a multitude of soft drinks available, such as Coca-Cola, Fanta, juices and so on. What's more, you should know that for every purchase of 300 THB, the establishment offers a bottle of chilled water. Isn't that nice?
Is there space to park a car or motorcycle near the shop?

Not really, as the shop doesn't have a dedicated parking lot. But it doesn't matter – the streets are wide, so there's always a place to park if you come by car. For motorcycles and scooters, this is never a problem.