Weed Accessories: Best Gadgets to Smoke Weed in 2023
---
Hey there, my fellow herb enthusiasts! Let's dive into the world of weed accessories, shall we? I've got the lowdown on all the latest and greatest gear that's going to take your toking game to a whole new level this year.
2023 has seen an explosion in the types and quality of weed accessories available!
Whether you're a laid-back occasional smoker or a seasoned cannabis connoisseur, having the right tools and gadgets can make a world of difference, and helps ensure an optimal smoking experience. Read on for my definitive roundup of must-have cannabis gear that will take your sessions to the next level in 2023!
| | |
| --- | --- |
| ✔ Best Grinder | OTTO by Banana Bros |
| ✔ Best Pipe | Ritinhao 2 in 1 |
| ✔ Best Bong | World Globe Bong |
| ✔ Best Tray | Treehouse Tray Set |
| ✔ Best Rolling Pappers | Bongchie |
| ✔ Best Tips/Filters | W'cked Charcoal Filter Tips |
| ✔ Best Blunt | ZIG-ZAG Hemp Wraps |
| ✔ Best Vape Pen | Stiiizy |
| ✔ Best Vaporizer | G Pen Elite |
---
---
What do you need to smoke weed?
Smoking weed in Bangkok is a delightful experience, especially with the recent legalization of recreational cannabis. As you set out to explore the city's bustling marijuana scene, it's essential to have the right tools at your disposal to ensure a smooth and enjoyable session. In this guide, I'll walk you through the must-have items for any cannabis lover looking to make the most of their Bangkok adventure.
Rolling papers
Rolling papers are a staple for any cannabis enthusiast. These thin sheets, typically made from materials such as wood pulp, rice, or hemp, serve as the foundation for rolling a perfect joint. With various sizes, flavors, and materials available, you'll find the perfect rolling papers to suit your smoking preferences and style in Bangkok.
Tips
A quality smoking experience starts with a well-constructed joint, and using a tip (also known as a filter or crutch) is essential. Tips provide structure to your joint, prevent soggy ends, and ensure that no precious cannabis bits are wasted. From pre-made filters to DIY options using sturdy paper, tips are a must-have item for any cannabis aficionado.
Grinders
Grinders are the unsung heroes of the cannabis world, providing a fine grind for your buds, ensuring an even burn and optimal flavor. Available in various materials, such as metal, acrylic, and wood, grinders come in different sizes and compartments to suit your needs. Investing in a high-quality grinder will elevate your Bangkok cannabis experience to new heights.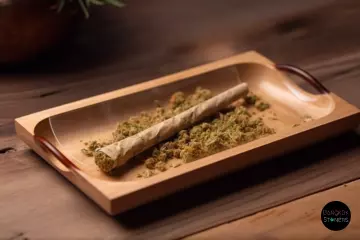 Trays
A well-organized smoking setup is crucial for a hassle-free session, and trays offer the perfect solution. These handy items keep all your cannabis-related accessories in one place, making it easy to roll, pack, and store your weed. From stylish and discreet designs to novelty trays featuring your favorite pop culture references, there's a tray for every personality.
Pipes
Pipes offer a classic and convenient way to enjoy cannabis, with countless styles, materials, and designs to choose from. Whether you prefer the elegance of a glass pipe, the durability of a silicone model, or the charm of a hand-carved wooden piece, you'll find the perfect pipe to complement your cannabis journey in Bangkok, and within the Land of the Smiles!
Bongs
For those seeking a more intense and immersive smoking experience, bongs are the way to go. These water-filtered devices deliver smooth, cool hits, allowing you to savor the full flavor of your cannabis. With a diverse range of bong styles, materials, and sizes available in Bangkok, you're sure to find the ideal match for your smoking preferences and aesthetics.
Blunts
For the ones looking for a more robust and flavorful smoking experience, blunts are an excellent choice. Blunts offer a slow-burning and aromatic session that many smokers adore. In Bangkok, you'll find a variety of blunt wraps and brands to suit your preferences, adding a bold twist to your cannabis adventures. Check my dedicated page for more info.
Weed Accessory Kits – The Best All-In-One Options
Listen up because if you're all about snagging a bunch of awesome weed accessories without going through the trouble of buying each piece separately, then accessory kits are your golden ticket. These pre-packaged bundles have got you covered with all the essentials like pipes, papers, grinders, and stash bags.
And here's the cherry on top: grabbing one of these complete weed kits doesn't just give you an epic gear arsenal, but it's also a wallet-friendly move. Seriously, you're saving big time compared to buying each accessory solo. Plus, imagine having all your gear neatly lined up and ready to rock whenever you need it – talk about convenience, right?
But wait, there's more! These sets are pimped out with the latest smoking gadgets and innovations. I'm telling you, it's a whole new level of smoking swag. So, ditch the headache of trying to cobble together a makeshift stash box. Treat yourself to the awesomeness of an all-in-one weed kit. Trust me, it's so handy. Grab one of these bundles today and thank me later!
Level Up Your Gear Game with Weed Subscription Boxes
Stoner fam, have you heard about the awesome new subscription boxes for weed smokers? They're monthly packages of dope accessories and gear tailored to your interests that show up at your door.
The best weed subscription boxes hook you up with a fresh batch of new products every month like papers, wraps, vapes, and other lit accessories. You can choose options catered to your specific smoking style – whether you love grinding flowers, vaping extracts, rolling epic joints or keeping your gear organized.
Copping a subscription box saves you the effort of constantly having to restock your stash. And you get to test out and discover new innovative products you may not have tried yet.
Your Comprehensive Guide to Ultimate Weed Accessories
And there you have it, friends – the comprehensive guide to the dopest weed accessories that will level up your smoking game in 2023.
We covered all the crucial gear like quality bongs, vapes, grinders, trays, and papers you need in your arsenal to elevate your pot experience. Trust me when I say investing in some of these premium picks will be an amazing move for your sessions. Keep in mind that if you can get these accessories in your favorite weed dispensary in Bangkok, it is always better to buy them online as they will be cheaper.
So what are you waiting for? Grab some of these lit accessories and let your creativity loose when it comes to consuming your bud. Combine different tools and gadgets to customize your perfect routine. Get that accessory collection dialed and happy blazing, my friends!