Dr Green Bangkok – DISPENSARY Review 2023
---
Yes guys, I finally visited Dr Green Bangkok, the cannabis dispensary everybody is talking about in town. After just a few minutes, I knew it was going to become one of my favorite spots in Bangkok.
Dr Green, the dispensary you must visit absolutely!
Having lived in the Netherlands and possessing a very distinct image of "coffeeshops", I found at Dr Green the ambiance that I love. Do you also want to learn more about this weed shop and understand why it's an essential hub of weed culture in Bangkok? Continue reading my full review.
---
---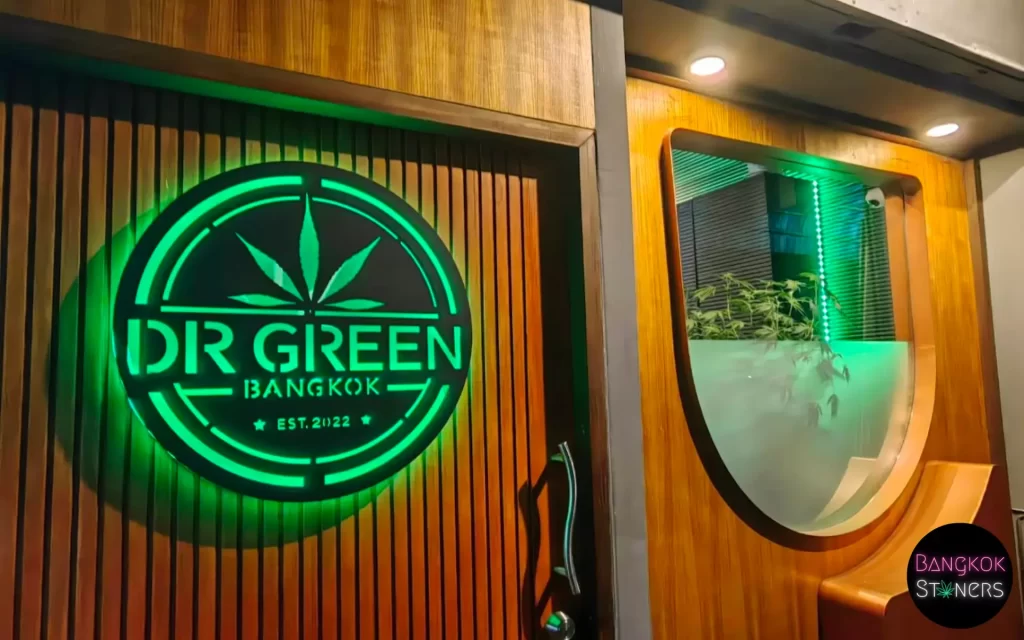 | | |
| --- | --- |
| NAME | Dr Green |
| MAIN ADDRESS | 93 Sukhumvit Road, Khwaeng Khlong Toei Nuea, Khet Watthana, Bangkok 10110, Thailand |
| OPENING HOURS | 11:00AM to 11:00PM (Asok and Udom Suk – 24/7 from Wednesday to Sunday at Asok |
| MY REVIEW | 5/5 |
---
Weed of The Month at Dr Green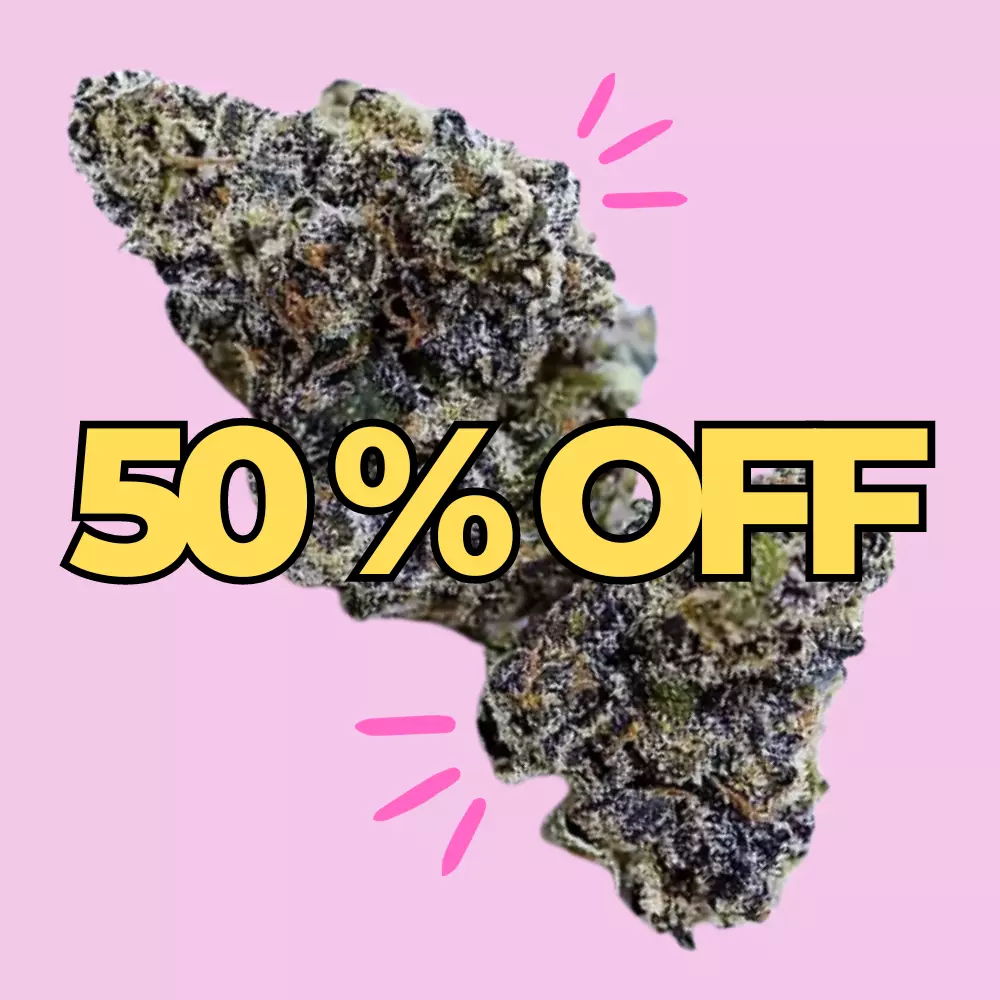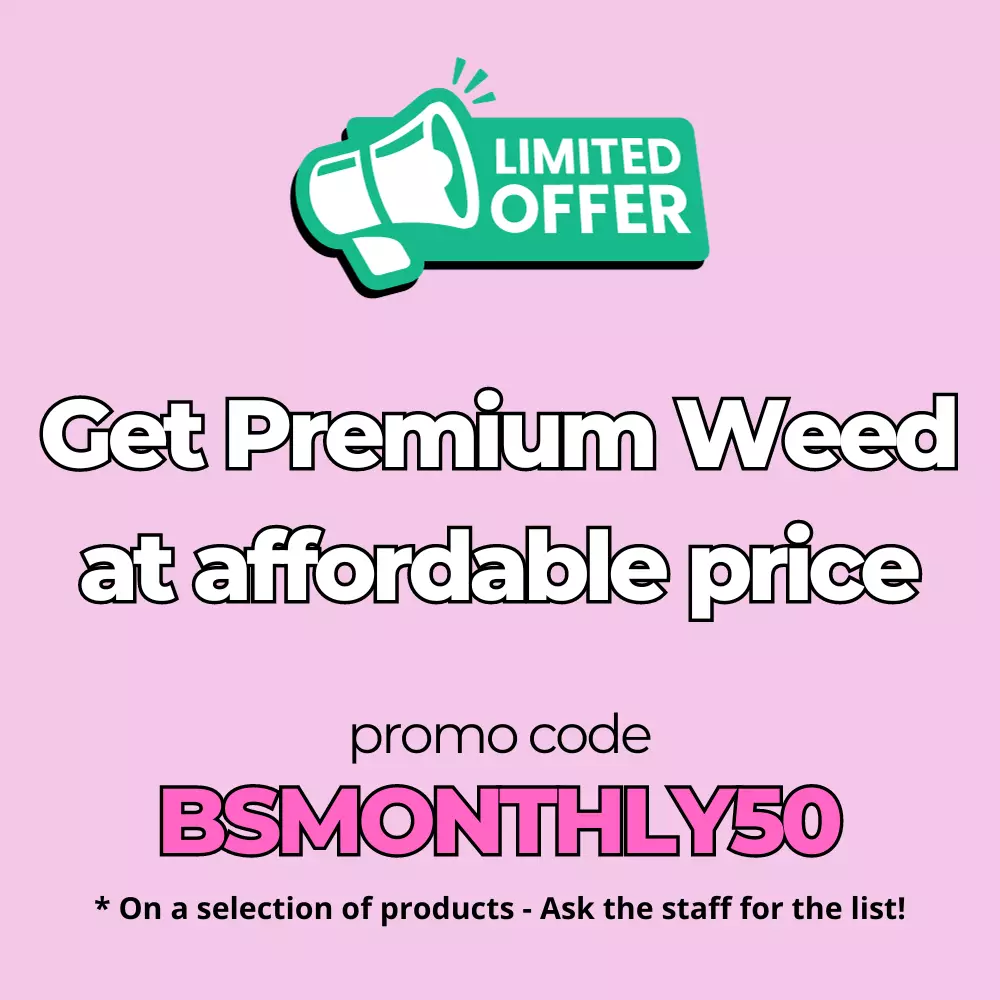 PROMO – 🌟 Dr Green: Quality Meets Affordability! 🌟 In our review of Dr Green, one thing stands out – their commitment to offering top-notch strains without the hefty price tag. And now, exclusively for Bangkokstoners.com readers, enjoy a 50% discount on a selection of flowers with code BSMONTHLY50. Ask the staff for the list of strains available for the promotion. Experience the Dr Green difference today!
Exclusive Coupon Code Available at Dr Green
As part of my continued exploration and partnership with Dr Green, I am excited to share an exclusive discount just for my readers. Whether you're an old-hand or new to the world of cannabis, you'll appreciate this deal.
To show their dedication to providing not only the best quality products but also the best value, Dr Green has generously provided an exclusive coupon code: BANGKOKSTONERS15. This code gives you a substantial 15% off on every purchase you make, no matter how big or small. And the best part? This discount is not a one-time deal. You can use this exclusive code on all your orders, indefinitely. This offer can be applied whether you're purchasing in-store at any Dr Green branch, or if you're ordering from the comfort of your home for delivery. To use the code, just mention it during your purchase.
Please remember, as always, to consume responsibly and enjoy the high-quality products that Dr Green has to offer.
---
The Dispensary
Dr Green has not just one, but two shops already open in Bangkok. The first one is located in Asok, a few meters away from the BTS Asok, across from the entrance of the very famous Soi Cowboy. I couldn't miss it; there's a massive neon cannabis leaf perched above the exterior facade.
The second shop is located in Udom Suk, in a much more local neighborhood.
Environment
For both weed shops, the management of Dr Green has chosen to be in two strategically distinct locations.
The first Dr Green shop in Bangkok, in Asok, primarily targets tourists. The shop aims to become one of the district's references for cannabis, especially for tourists wanting to taste the finest buds available. And just for its tourist clientele, Dr Green has decided to open 24/7 from Wednesday to Sunday. Incredible, isn't it?
As for the second shop, which personally I find almost better than the first one (so, imagine how cool it is), it is located in a neighborhood called Udom Suk. The target here is clearly locals, both Thai and foreigners. The shop is situated on a bustling street and integrates perfectly into the neighborhood's life. This is yet another proof that Dr Green is in perfect harmony with its surroundings and the country's culture.
Atmosphere
What kind of atmosphere will you find at Dr Green Bangkok? I was lucky enough to visit both weed shops, and I can tell you, I found the same atmosphere each time.
Starting with the decor, we're in the same universe: green, wood color, modernism; everything blends perfectly together. It gave me the feeling of being in a zen place, cut off from the city's wild ambiance.
Then, in both shops, I found places to chill, sit, and roll my joints with absolute relaxation. For the Asok one, I obviously recommend going upstairs, and for the Udom Suk one, why not relax a bit on the terrace? I found both dispensaries quite modern. They are places that seemed pleasant to me and definitely made me want to return.
IT'S A SECRET – Rooftops are reportedly under construction at both shops. I'm already excited to discover them.
The Weed at Dr Green
Well, onto the weed now. I know that's also why you're currently reading my review, hahahaha! No beating around the bush with us!
Strains' Selection
Let's start with the selection of strains. I've visited shops in Bangkok where I was clearly disappointed but here… OMG… I was amazed to see about twenty varieties of cannabis flowers, just waiting to be smoked.
What I like about Dr Green is that the selection is balanced:
Sativa varieties,
Indica varieties,
Hybrid varieties,
And always one or two CBD varieties for the regulars.
And here, take note, kudos to the managers of Dr Green: they only sell weed that's grown in Thailand. We're talking 100% local here! I wholeheartedly support this trend. Why sell US imports when we have quality like that which Thailand is (already) capable of producing?
In summary, at Dr Green's dispensary, there's weed for everyone, whether you're a beginner, occasional smokers, or heavy stoners. This naturally includes the varying THC levels depending on the strain.
Quality of Products
You're getting to know me by now, I obviously asked the budtenders present during my visit to open all the jars. I love smelling weed, what can I do about it?
Honestly, apart from two or three strains that I found a bit dry in the jars, all the other flowers were perfect, whether in terms of smell, fragrance, or even the feel when touched.
PURCHASE – I bought 4 strains thanks to the BANGKOKSTONERS15 promo code (15% OFF on every purchase you make). I got myself some Apple Banana, Orange Velvet, Gorilla Glue and Jack Herrer (one of my favorite strains).
What's cool is that I didn't have to wait, the doses are freshly prepared in the morning by the staff who are meticulous to always put 1 gram or slightly more in the bags. I have a sweet tooth, I started by smoking a joint of Apple Banana… Oh boy… What a quality! The weed has an incredible taste, it's delicious. And the hit it gave me, I won't even talk about it.
I better understand why Dr. Green has the reputation of delivering the best weed in Bangkok. It's not a joke. To this day, I have not yet found such quality in weed shops in Bangkok. I assure you.
Pricing and Value
In terms of pricing, yet again, it's a very pleasant surprise. Indeed, thanks to these attractive prices, Dr. Green ranks first on my Cheap Weed Bangkok list. Here, you find crazy strains like Super Sour Diesel at 200 baht per gram. The best Indica strains are around 600 baht per gram and for the top ones, you find them at 750 or 800 baht per gram.
So, we're dealing with a range that starts at 200 baht per gram and never exceeds 850 baht per gram. At Dr. Green, you don't need to be rich (unlike other dispensaries) to smoke quality weed.
Finally, let me mention the interesting discount that Dr. Green offers you:
10% OFF for 5 grams purchased,
20% OFF for 10 grams purchased,
30% OFF for 30 grams purchased.
And please keep in mind my weed promo code that I negotiated at Dr. Green just for you. This code is available on all your orders, without a minimum, and lifetime.
The Staff at Dr Green Bangkok
I like being able to communicate with the budtenders to quickly understand the level of weed education and thus the level of customer services offered.
At Dr. Green, whether at Asok or Udom Suk, I was welcomed by very friendly budtenders. During the day, there were two women who spoke excellent English, a definite advantage, especially when targeting international customers.
I asked a few questions about the strains I was choosing, the effects I was going to feel, etc. I was expecting the classic "Sativa for Energy and …", which has become really boring in Bangkok.
Well, not at all, I received relevant information, interesting advice and recommendations that I won't forget (especially on the choice of the Apple Banana).
You add to all these big smiles, and you have the perfect recipe for a 5/5 staff rating!
Additional Services
By additional services, I mean home delivery, workshops, etc. Let's see what Dr. Green has to offer.
Weed Delivery
Dr. Green offers a very efficient weed delivery service. For this review, I tested it, obviously anonymously, so as not to distort the results.
I used their LINE to request the menu and order. I took two grams of Mandarin Cookies at 600 baht per gram. It cost me 1200 baht – my 15% OFF with my BANGKOKSTONERS15 coupon (yes, you can also use it for delivery) = 1020 baht of weed to which I added a few tens of bahts for delivery. It's really not expensive.
RESULT – I was delivered in exactly 27 minutes. Can you believe that? I was amazed: 27 minutes! So yes, it works and works well!
Workshops and Events
According to one of its managers:
"Dr Green prefers to focus for the moment on the quality of the products offered to customers. But be careful, many things are coming. Dr Green is not done surprising you."
Well, my friends, that's an announcement that leaves me eager, what about you?
Reviews and Reputation
I took a look at the Dr Green Google reviews and there too, it's unanimous:
4.9/5 for the Asok shop,
5/5 for the Udom Suk shop.
Customers all seem to agree, Dr Green is a safe bet, a dispensary that offers incredible weed quality and always top-notch customer service.
My Opinion on Dr Green
As I told you in the introduction, Dr Green is the kind of weed shop I like. I found quality products, attractive prices, interesting advice and the place encourages conversation with other customers. I really had a good time at Dr Green. So much so that it has become N°1 in my ranking of the best weed shops in Bangkok.
I therefore invite you to discover the dispensaries by yourself, whether you are near Asok or Udom Suk. I am eager to hear your feedback. Please don't hesitate to share your impressions in the "Comments" section below.
And finally, follow Dr Green on Instagram by clicking this link. Cheers!
FAQ
What are Dr Green's opening hours?

Dr Green is open from 11am to 11pm at Asok and Udom Suk. The management has added a night shift for tourists and locals who would like to get their weed, even in the middle of the night. So, Dr Green Asok is 24/7 from Wednesday to Sunday.
Would it be possible to get delivery from Dr Green in Bangkok?

Yes, of course. You can have weed delivered in Bangkok thanks to Dr Green's service, and you can even get 15% OFF with the coupon code BANGKOKSTONERS15.