cheap weed in Bangkok? My tips and best shops!
---
Looking to score the best deals on your favorite herb? Are you wondering where to find the cheapest weed Bangkok has to offer? You're in luck! In this article, I'll share my insider tips and good addresses to help you enjoy weed without breaking the bank.
Get ready to embark on a cannabis adventure like no other!
Whether you're a seasoned connoisseur or a curious newbie, my guide will point you in the right direction for scoring affordable, quality weed in the bustling metropolis of Bangkok. Ready?
| | |
| --- | --- |
| ❤ Best Dispensary | Dr Green |
| ⚂ Weed of the Month | 50 % OFF |
| ✔ Min. Price | 120 Bahts |
| ❀ Quality | Fantastic |
---
---
Cheapest Weed of The Month – December 2023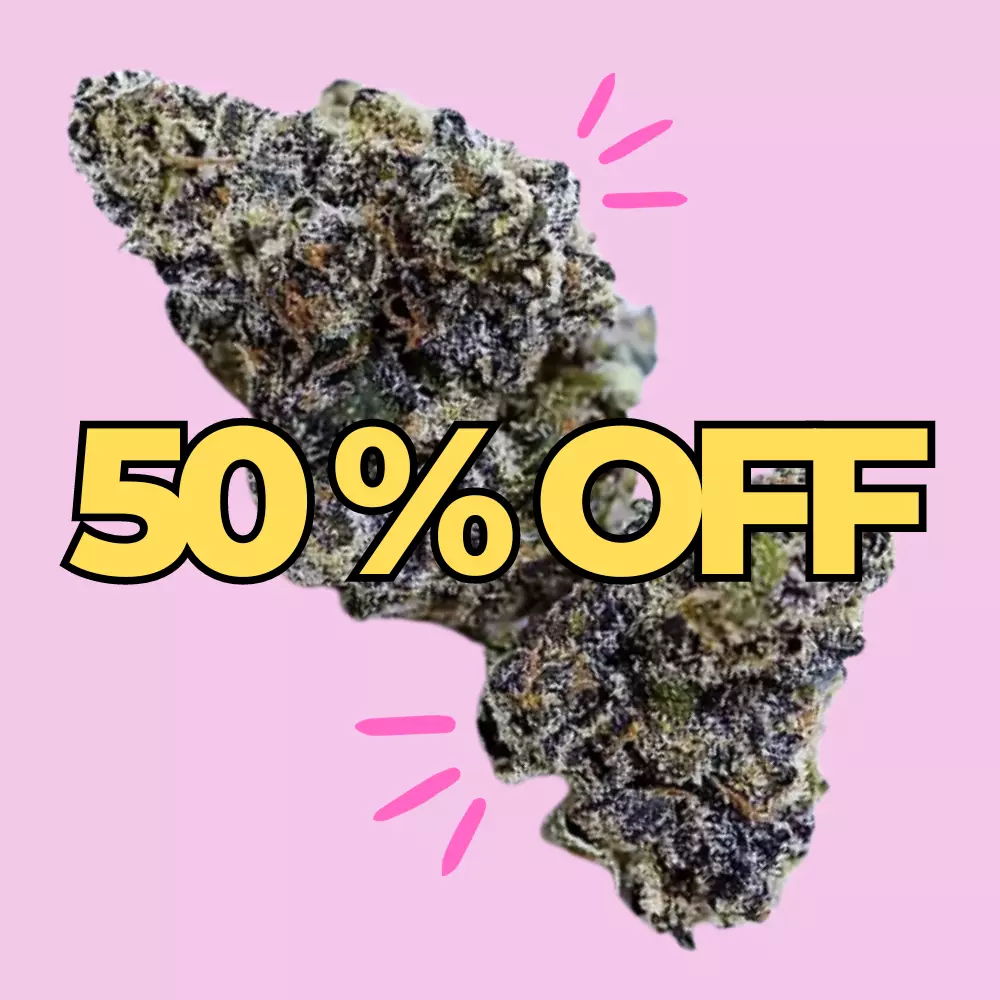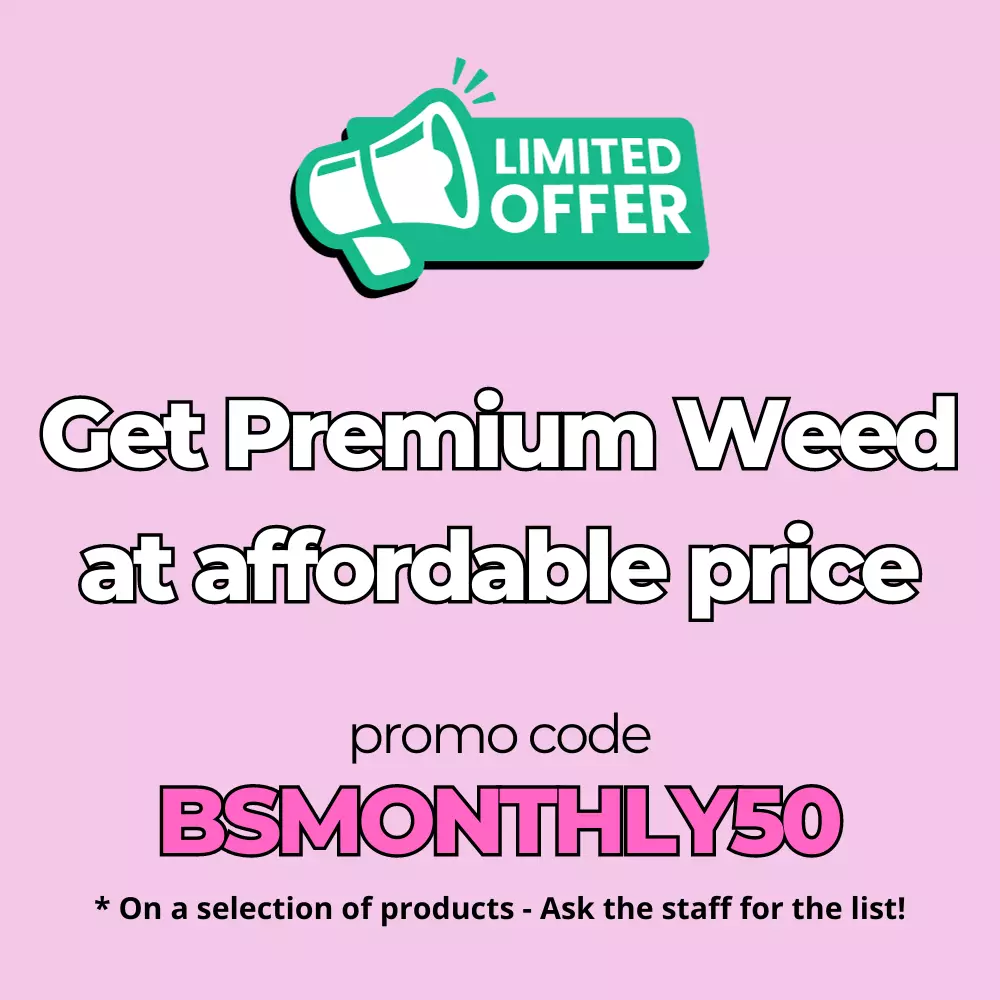 My Top 4 favorite dispensaries to buy cheap weed in Bangkok
Dear readers, I've compiled a list of the best weed shops offering top-quality products at unbeatable prices. Explore them and discover your go-to spot for the cheapest weed in Bangkok without compromising on quality.
1 – Dr Green
| | |
| --- | --- |
| Cheapest deal | 10 grams of Thai Stick for 600 THB |
If you're seeking the best spot for the cheapest weed in Bangkok, look no further than Dr Green Bangkok, a top-notch medical cannabis dispensary conveniently located near Terminal 21 Shopping Center. Driven by their passion, staff at Dr Green propose a diverse selection of high-quality THC and CBD flowers, with prices ranging from 60 to 800 THB per gram. Their cozy three-story establishment not only boasts a welcoming atmosphere but also provides complimentary drinks, a comfortable sitting area. You can also access to a free rolling station with all the necessary supplies.
Located just a short walk from both BTS Asoke and MRT Sukhumvit stations, Dr Green is committed to delivering a safe, family-friendly environment where customers can learn about the many benefits of cannabis. Their knowledgeable staff, coupled with the shop's strong focus on locally grown strains and cutting-edge research, sets Dr Green apart as the premier destination for affordable, high-quality cannabis in Bangkok. Don't miss out on this hidden gem that's sure to leave you with a smile on your face.
When visiting Dr Green dispensary, don't hesitate to strike up a conversation with their friendly budtenders. Pop (working at the Asok dispensary), the inked girl who speaks perfect English, is always eager to share her extensive knowledge about weed, its effects, and more. As a loyal customer, you might even be able to negotiate better prices. Pop's exceptional service has earned her the "My Amazing Budtender" award from Bangkok Stoners, so you can trust that you're in good hands with her guidance.
Address Asok: 93 Sukhumvit Road, Khwaeng Khlong Toei Nuea, Khet Watthana, Bangkok 10110, Thailand.
Address Udom Suk: 110 Udom Suk Rd, Bang Na Tai, Bang Na, Bangkok 10260, Thailand.
Thanks to this weed coupon code, you can get 15 % OFF on every purchase you do at Dr Green. Amazing, isn't it?
---
2 – Choo Choo Hemp
| | |
| --- | --- |
| Cheapest deal | 1 gram of Cinderella Jack for 80 THB |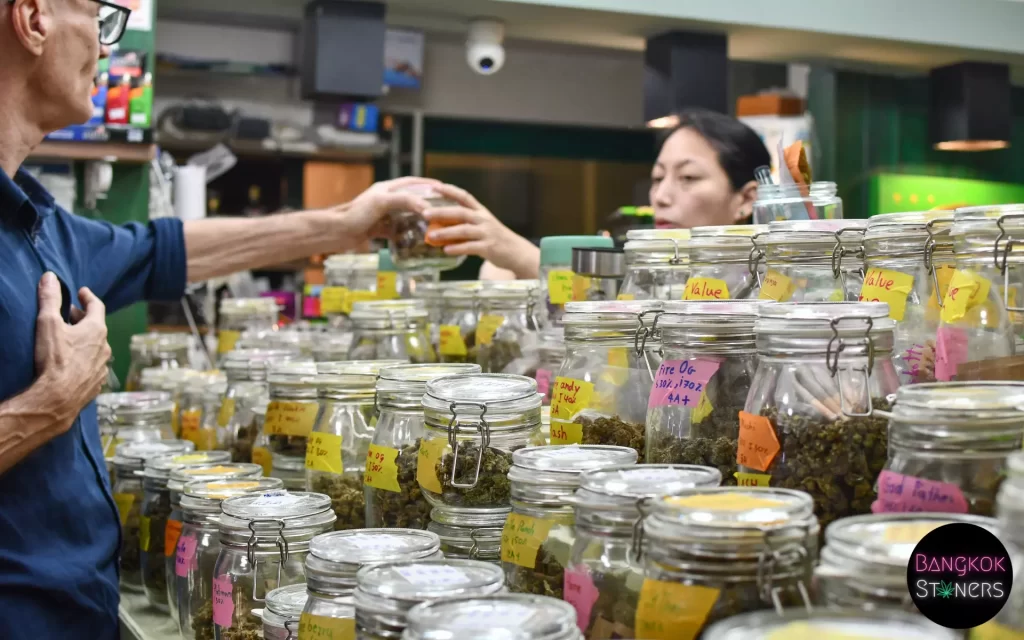 When it comes to quality cheap weed, I'm obliged to talk about Choo Choo Hemp, an increasingly popular dispensary committed to offering a wide selection of cannabis strains to suit every budget.
With prices starting at just 80 THB per gram, Choo Choo Hemp makes premium cannabis accessible without breaking your budget. Let me give you some examples of my favorite strains at Choo Choo Hemp:
Cinderella Jack: 80 THB for 1 gram.
G13 Haze: 100 THB for 1 gram.
Nicole X Banana: 150 THB for 1 gram.
Bokito Banana Kush: 180 THB for 1 gram.
Pretty cheap, right? And guess what: they have 100+ strains available.
And please keep in mind that with the EXCLUSIVE coupon code I've managed to negotiate for you, you can get a 25% discount on your first physical order, at the dispensary! And remember, there's no limit. Incredible, isn't it? Use the code CHOOCHOO25 and enjoy!
Address Soi 11: 108/4-5 Sukhumvit 49, Bangkok 10110, Thailand.
---
3 – Amsterdam Cafe Bangkok
| | |
| --- | --- |
| Cheapest deal | 1 gram of Thai Green Crack for 99 THB |
If you need your weed delivered late into the night, or even into the very wee hours of the morning, think Amsterdam Cafe Bangkok. In fact, the dispensary delivers all over Bangkok until 5am.
Via their Instagram account, you can get recommendations on the best strains of the moment. The delivery process is super smooth. You receive your weed very quickly and in complete discretion.
The great thing about Amsterdam Cafe Bangkok is that you can choose from a wide variety of strains (the staff told me they have around 90 available. Amazing, isn't it?) and above all, the prices are super affordable. Here, you can really get a quality strain that fits your budget perfectly, from 99 baht to 900 baht. The choice is yours.
For those on a budget, the Thai Green Crack at 99 baht does the job. Of course, it won't be the tastiest weed of your life, but if that's the effect you're after, it'll do the trick.
Address Soi 11: 141 Soi Sukhumvit 11, Khlong Toei Nuea, Watthana, Bangkok 10110, Thailand.
---
4 – UMEANDMY ART & TATTOO
Nestled within the vibrant city of Bangkok, you'll find UmeAndMy Art & Tattoo, a unique establishment that combines perfectly art, tattoos, and cannabis culture. Originally, a tattoo studio owned by a talented and passionate Thai artist, the owner's love for weed and interest in the growing process led to the expansion of the business into a bar and cannabis shop.
UmeAndMy Art & Tattoo offers a remarkable selection of cannabis products at unbeatable prices, ranging from 100 THB to 300 THB for the owner's homegrown strains, and averaging around 500 THB for the other high-quality weed strains available. The owner's exceptional tattooing skills attract customers seeking a one-of-a-kind experience.
What sets this place apart is the opportunity to get a tattoo, and during breaks, head down to the bar for a refreshing fruit juice and enjoy a joint on the charming little terrace. UmeAndMy Art & Tattoo has quickly become a favorite spot for the Bangkok Stoners Team and is highly recommended for anyone seeking a truly unforgettable experience.
Don't miss out on the opportunity to explore UmeAndMy Art & Tattoo's incredible artwork and cannabis selection. Visit their Instagram page at https://www.instagram.com/umeandmy/ and their Facebook page at https://www.facebook.com/umeandmy/ to view the stunning art created by the talented owner.
Be sure to request their weed menu on either platform to discover their latest cannabis offerings and prices. Experience the unique blend of artistry and cannabis culture at UmeAndMy Art & Tattoo for a truly memorable visit.
Address: 187/8 ซอย รัชดาภิเษก 32 Chan Kasem, Chatuchak, Bangkok 10900, Thailand.
Top Areas to Find the Cheapest Weed in Bangkok
Are you wondering where to buy weed in Bangkok? If so, no worries, you can find various districts with unique opportunities for buying cheap cannabis. Each area has its charm and hidden secrets, catering to different tastes and preferences. In this section, I'll take you on a tour of the top areas to find cheap weed in Bangkok, ensuring you get the best bang for your buck.
Sukhumvit
Sukhumvit is a popular and lively sector in Bangkok, known for its colorful mix of shopping, dining, entertainment, and nightlife options. Sukhumvit Road, which stretches for 18 kilometers, is one of the world's longest boulevards, lined with several attractions, luxury hotels, high-end shopping centers, and street markets.
The BTS Skytrain connects the neighborhood, making it convenient for both locals and tourists to navigate the city. Thonglor, Ekkamai, Asoke, and Nana are among the prominent neighborhoods on Sukhumvit.
Sukhumvit's eclectic dining scene caters to a wide range of preferences, including fine-dining institutions and contemporary fusion restaurants, as well as local food booths and international cuisine. The district is also known for its active nightlife, which includes a wide range of bars, clubs, and rooftop locations.
Sukhumvit has become a favorite location for cannabis fans since the legalization of cannabis in Thailand. Several dispensaries have sprouted in the neighborhood, offering a diverse choice of cannabis goods at reasonable pricing. The combination of locals and visitors provides a really cool environment that matches with a variety of tastes and finances, making Sukhumvit one of the best spots to experience when you are in Bangkok.
Khaosan Road
Khaosan Road, often referred to as the "backpacker's haven", is a lively street located in the heart of Bangkok, Thailand. This area is well-known for its budget-friendly accommodations, an eclectic mix of shops, and restaurants for travelers coming from all around the world.
Let us tell you, Khaosan Road is energetic, with street vendors selling everything from clothing and souvenirs to street food and drinks. If you don't like noise and music, do not go there, haha, haha! The area is also well-known for its nightlife scene, featuring an array of bars and clubs that stay open until the early hours of the morning. It's common to see travelers and locals mingling and enjoying the festivities together, creating a unique cultural experience.
Lately, Khaosan Road has also become a popular destination for cannabis users. With the legalization of marijuana in Thailand, weed dispensaries and cannabis-friendly establishments have popped up in the area, making happy those looking for cheap and quality weed. The relaxed atmosphere and open-minded vibe make Khaosan Road an ideal location to explore Bangkok's weed scene.
Here, you'll find Plantopia, the biggest cannabis complex in Thailand, known for its multiple weed dispensaries offering affordable prices and great services thanks to the friendly staff. Here, the selection includes local strains like Thai Stick, Chiang Mai Haze, and Bangkok Kush.
Address: 265 Khaosan Rd, Talat Yot, Phra Nakhon, Bangkok 10200, Thailand.
Silom
Silom is a major financial and business district in Bangkok, often referred to as the "Wall Street of Thailand". The area is characterized by its impressive skyscrapers, multinational corporations, and financial institutions, giving it a cosmopolitan vibe. However, Silom is more than just a business hub; it also boasts a mix of everything you need to entertain yourself!
The district is home to some of Bangkok's most iconic landmarks, such as the stunning Lumphini Park, a green oasis in the heart of the city. The famous Patpong Night Market, which offers a variety of shopping opportunities and entertainment venues. Silom's diverse culinary scene ranges from local street food stalls to high-end international restaurants. Whatever your budget is, you might find a place you like.
When it comes to nightlife, Silom doesn't disappoint. The area features an assortment of bars, clubs, and rooftop venues, open all night long. Recently, Silom has also become increasingly popular among the LGBTQ+ community, with several gay-friendly establishments popping up in the area.
Following the legalization of recreational cannabis in Thailand, Silom has embraced the growing cannabis culture. Several dispensaries and cannabis-friendly establishments have emerged, catering to those looking for quality weed at cheap prices. The combination of business professionals and leisure-seekers creates a unique atmosphere, making Silom an exciting place to explore.
To get cheap weed (but great quality) in the Silom area, I advise you to visit these 3 dispensaries :
Cannabis Twins
Cannabis Twins offers a welcoming environment with top-quality products and exceptional customer service. Their expert staff assists in selecting the ideal strain for your needs and provides an assortment of delectable edibles.
Address: 69, 2 Sala Daeng Rd, Silom, Bang Rak, Bangkok 10500, Thailand.
Buddhas Kush Street
Experience a relaxed atmosphere at Buddhas Kush Street, where knowledgeable staff happily discuss your cannabis preferences and offer an unbeatable selection of top-shelf strains. This is definitely a place to visit when you are around!
Address: 18 Silom Rd, Bangkok 10500, Thailand.
HASH Silom 420
HASH Silom 420 prides itself on providing only the finest products, including a selection of premium flowers, concentrates, and edibles to delight any cannabis connoisseur. When I visited the shop, I was welcomed by a fantastic staff! Can't remember her name!
Address: 18/1 Silom Rd Soi 3, Bangkok 10500, Thailand.
Chatuchak Weekend Market
Chatuchak Weekend Market, also known as JJ Market, is one of the largest and most famous outdoor markets in Bangkok. Covering an area of 35 acres, the market features more than 15,000 stalls and attracts over 200,000 visitors each weekend. Chatuchak is a shopping paradise for both locals and tourists alike, offering a wide range of products.
The market is divided into 27 sections, with each section dedicated to specific types of merchandise such as clothing, accessories, handicrafts, ceramics, antiques, furniture, plants, and more. Additionally, there are numerous stalls offering delicious Thai street food, snacks, and refreshing beverages, keeping you energized during your shopping spree.
Chatuchak Weekend Market is known for its bustling vibe, with shoppers bargaining for the best deals and vendors showcasing their unique products. The market is a great place to find one-of-a-kind items, and gifts, as well as to experience authentic Thai culture. As one of my friends says, "it's the perfect place to bring souvenirs to home".
Since the legalization of cannabis in Thailand, Chatuchak Weekend Market has also become a popular destination for cannabis enthusiasts. Several stalls within the market sell cannabis products, including pre-rolls, edibles, and various strains of weed. As with other products at the market, it's common for shoppers to negotiate prices to get the best deal on their favorite cannabis items.
To visit Chatuchak Weekend Market, take the BTS Skytrain to Mo Chit Station or the MRT to Chatuchak Park Station. The market is open on Saturdays and Sundays from 9:00 AM to 6:00 PM, with some sections open on Fridays for wholesale shopping.
Insider Tips for Scoring Affordable Cannabis in Bangkok
Navigating Bangkok's marijuana scene can be overwhelming, especially when you're seeking the best deals. In this section, I'll share insider tips on scoring affordable cannabis. Let's dive into the secrets behind finding the cheapest weed in Bangkok!
Local Knowledge: The Power of Asking Around
One of the most effective ways to discover the cheapest weed in Bangkok is by tapping into local knowledge. While online resources and guides can be helpful, nothing beats the insights and recommendations of those who live and breathe the city's cannabis culture every day. By engaging with locals, you not only gain access to valuable information, but also build connections and form friendships that enhance your cannabis experience in Bangkok.
Start by striking up conversations with locals at cannabis dispensaries, cafés, or even friendly street vendors. They may be able to direct you to places offering the best deals or suggest specific strains that provide the most value for your money. Remember to approach these conversations with an open mind, respect, and genuine curiosity. By showing your appreciation for their expertise and experience, you'll likely find that people are more than willing to share their knowledge.
Another option is to connect with people through online forums, social media groups, or meetups. By participating in these communities, you can exchange tips, share stories, and learn about the latest deals and promotions. Keep in mind that the expertise and trustworthiness of these sources may vary, so always double-check the information and trust your instincts.
Timing Matters: When to Buy for the Best Deals
In the quest for the cheapest weed in Bangkok, timing can play a crucial role in helping you score the best deals. Understanding when to buy and where to look can significantly impact the prices you pay for your favorite cannabis products.
First, consider shopping during weekdays or off-peak hours. Dispensaries and cannabis cafés may be less crowded during these times, increasing your chances of receiving personalized attention and possibly exclusive weed discounts. Some establishments may even offer weekday promotions or happy hour deals that you can take advantage of.
Another timing-related tip is to stay updated on seasonal sales and promotions. During certain times of the year, such as holidays or special events, dispensaries might offer discounts or bundle deals to attract more customers. Keep an eye on local advertisements, social media pages, and newsletters to stay informed about these opportunities.
Lastly, consider building relationships with the staff at your favorite dispensaries. By becoming a regular customer and engaging in friendly conversations, you might gain access to insider information about upcoming sales or new product launches. This rapport can help you stay ahead of the curve and snatch up the best deals before they're gone.
Bargaining: How to Negotiate the Best Price
Mastering the art of bargaining can be a game-changer when looking for the cheapest weed in Bangkok. Negotiating prices is a common practice in Thailand, and learning to do so effectively can help you save money and make the most of your cannabis budget.
REMEMBER – Bargaining is a skill that takes practice to master. Be patient and learn from each experience to improve your negotiating skills. With time and perseverance, you'll become more adept at securing the best deals on cannabis products in Bangkok.
Here are some tips to help you negotiate the best price for your cannabis purchases:
Do your research: before visiting a dispensary or cannabis café, gather information about the average prices of various products in Bangkok. This knowledge will give you a solid starting point for negotiations and help you avoid overpaying.
Start low, but be reasonable: when making an initial offer, it's customary to start with a lower price than you're willing to pay. However, avoid going too low, as this may offend the seller. Aim for a reasonable discount and be prepared to meet in the middle.
Be polite and friendly: a positive attitude can go a long way in bargaining situations. Approach negotiations with a smile and maintain a respectful tone throughout the conversation. This approach will make sellers more likely to engage with you and consider your offer.
Show genuine interest: demonstrating a genuine interest in the product and appreciation for the seller's expertise can help build rapport and increase your chances of success. Ask questions about the strains, their effects, and any recommendations the seller might have.
Be prepared to walk away: if negotiations don't go your way, don't be afraid to walk away. Occasionally, this tactic can prompt the seller to reconsider your offer. However, always be gracious, and thank them for their time, even if you don't end up making a purchase.
---
You must understand Bangkok's Cannabis Scene
Bangkok has become a destination for cannabis fans looking for the greatest discounts on their beloved plant after the legalization of cannabis in Thailand in 2022. The city has its fair share of dispensaries, cafes, and clubs. Before going to buy the cheapest weed available in Bangkok, let's talk about the cannabis environment in Thailand, especially in Bangkok.
Legal Status of Weed in Bangkok
Ok, now, you know it! I keep on repeating it all over my website: YES, WEED IS LEGAL IN THAILAND. Unbelievable, right? Adults aged 20 and above are allowed to possess cannabis for personal use. You can check this page to get additional information about it.
You can even grow weed on your own, six plants max, which is already really cool, isn't it? Dispensaries are licensed and regulated, ensuring quality products for consumers. What else, as Georges Clooney would say!
Factors Affecting Cannabis Prices
Cannabis prices in Bangkok can vary based on factors such as:
Quality,
Strain,
Availability,
Location.
Nothing new here, right? It seems to be a worldwide rule! To find the cheapest weed, it's essential to be aware of these factors and to explore different areas and establishments.
MY TIPS – I, personally, want to draw your attention to the fact that the best weed in Bangkok is not necessarily the most expensive. It is important to always ask your favorite budtenders for the advice!
---
Thank you for reading our guide on where to find the cheapest weed in Bangkok. I hope that this information has been helpful for you in your search for affordable marijuana in the city. If you have any further questions or suggestions, please feel free to reach out to my team.
I am constantly updating my website with new information and resources for stoners in Bangkok, so be sure to follow us on social media to stay up to date on the latest news, reviews, and deals. You can find us on Facebook, Twitter, and Instagram.
Thanks again for visiting BangkokStoners.com, and happy toking!