Best Weed Shop Sukhumvit | My Top Selection 2023
---
Sukhumvit, with its bustling streets, trendy restaurants and night markets, is a Bangkok must-see. But amid all this hustle and bustle, where can you find the best weed shop in Sukhumvit? It's a question I've asked myself time and again.
Did you know Sukhumvit Road ends in Cambodia?
After countless tastings, meetings with locals and a few laughs along the way, I've compiled for you a list of the best cannabis dispensaries in Sukhumvit. Dive in with me on this verdant adventure in the heart of one of Bangkok's most iconic neighborhoods.
---
---
Top 5 Sukhumvit Weed Shops
Just for you my dear readers, I've explored the length and breadth of Sukhumvit to bring you the crème de la crème of weed shops.
These Top 5 weed shops in Sukhumvit, especially, are must-visit destinations (more details within the article):
Essential Information About Sukhumvit
Nestled in the heart of Bangkok, Sukhumvit isn't just a district; it's a spirited tapestry of culture, history, and modernity. Stretching from the central business district through to the eastern outskirts of the city, Sukhumvit is a geographical marvel, characterized by its long, winding road, one of the longest boulevards in the world.
Historically, Sukhumvit has been a melting pot of cultures, with its roots tracing back to the rapid urban development of Bangkok in the mid-20th century. Today, it stands as a bustling hub, where the past and present coalesce seamlessly.
As you stroll down the lively streets of Sukhumvit, you're greeted by an eclectic mix of experiences. From the upscale shopping centers like the Emporium and Terminal 21, offering a world-class retail experience, to the traditional street markets where local vendors sell everything from tantalizing street food to handmade crafts, Sukhumvit is a paradise for both the casual browser and the serious shopper.
Read more

But Sukhumvit's charm doesn't end with shopping. The district is dotted with a variety of attractions, including the tranquil Benjasiri park, perfect for a peaceful escape from the city's hustle and bustle. The area is also renowned for its vibrant nightlife, with a plethora of bars, clubs, and restaurants that cater to every taste and preference.

Culturally, Sukhumvit is a host to numerous events throughout the year, ranging from traditional Thai festivals to international music and food events, reflecting the diverse community that calls this area home. Notably, the annual Sukhumvit Fair is a must-visit, showcasing a fusion of art, music, and culinary delights, drawing both locals and tourists alike.

In essence, Sukhumvit is a microcosm of Bangkok itself, diverse, dynamic, and delightfully unpredictable. Whether you're a history enthusiast, a shopping aficionado, a foodie, or just a curious traveler, Sukhumvit promises an adventure at every turn, making it an essential stop on any Bangkok itinerary.
Why does Sukhumvit stand Out in Bangkok's Cannabis Landscape?
Sukhumvit offers a cannabis experience as dynamic as its bustling streets and night markets. Here, the cannabis culture is infused with the district's unique character, making it a standout destination.
In Sukhumvit, the cannabis scene is not just about the variety of dispensaries, but also about the community that surrounds them. It's a place where local knowledge and global trends intersect, creating a rich tapestry of experiences. The dispensaries here are more than just shops; they're cultural hubs where knowledge, stories, and tips are exchanged as freely as the products themselves.
Read more

The area also boasts a blend of traditional Thai influences and modern, international trends in cannabis culture. This unique mix is evident in the product offerings, the ambiance of the dispensaries, and the knowledgeable staff who are as passionate about cannabis as they are about their rich local heritage.

Sukhumvit's cannabis landscape is a reflection of Bangkok's spirit, adventurous, diverse, and always evolving. It's a place where every visit offers something new, whether it's a rare strain discovered in a tucked-away shop or a unique edible found in a bustling street market. This is what makes Sukhumvit an essential destination for anyone interested in exploring the depths of cannabis culture in Bangkok.
My Top 5 Cannabis Dispensaries in Sukhumvit
Embarking on a journey through Sukhumvit's cannabis landscape is an adventure in itself. As a seasoned connoisseur and guide to Bangkok's thriving cannabis scene, I've explored countless dispensaries across the city. But it's in Sukhumvit where I've found some true gems that stand out for their quality, ambiance, and unique offerings.
DID YOU KNOW – In this exclusive list, I'm excited to share with you my top 5 cannabis dispensaries in Sukhumvit. Each one offers a distinct experience that encapsulates the spirit of Bangkok's cannabis culture. For those of you who are curious about the broader cannabis scene in Bangkok, make sure to check my list of the best weed dispensaries in Bangkok.
Top 1 – Dr Green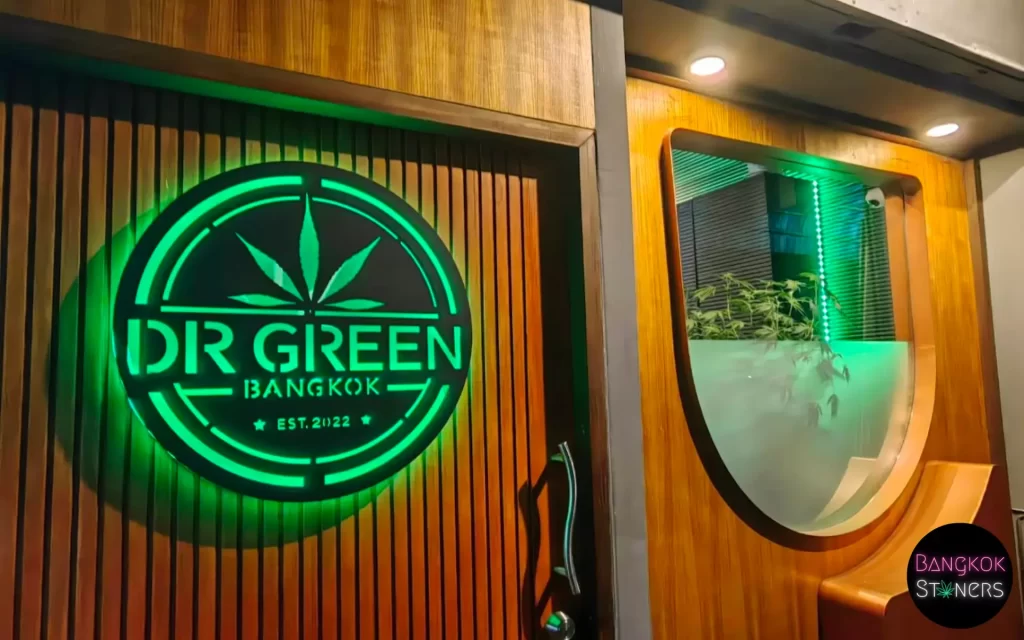 | | |
| --- | --- |
| NAME | Dr Green |
| MAIN ADDRESS | 93 Sukhumvit Road, Khwaeng Khlong Toei Nuea, Khet Watthana, Bangkok 10110, Thailand |
| OPENING HOURS | 24/7 from Wednesday (11:00am) to Monday (11:00pm) – Tuesday : 11:00am to 11:00pm |
| PHONE NUMBER | +66821719192 |
| PRICE RANGE | From 60 THB to 800 THB, with an average at 300 THB |
Why should you visit this Sukhumvit Dispensary?
Dr. Green stands out for its top-tier cannabis quality, setting a high standard in Bangkok.
Offering great value, Dr. Green's pricing is attractively affordable.
Located 3 minutes from Sukhumvit Road, Dr. Green is remarkably convenient to reach.
The staff at Dr. Green are not only friendly but also deeply versed in cannabis knowledge.
Dr. Green features a stylishly designed lounge, perfect for rolling and relaxing.
Top 2 – Stoned & Co
| | |
| --- | --- |
| NAME | Stoned & Co |
| MAIN ADDRESS | 3, Seenspace Thonglor, 251/1 Thong Lo, Khlong Tan Nuea, Watthana, Bangkok 10110, Thailand |
| OPENING HOURS | 10:00am to 12:00am (02:00am during the weekend) |
| PHONE NUMBER | +66834645108 |
| PRICE RANGE | From 450 THB to 900 THB |
Why should you visit this Sukhumvit Dispensary?
Experience a high-end cannabis shopping atmosphere that feels both exclusive and welcoming.
Their dedication to diversity shines through in their varied staff and product offerings.
This shop is a one-stop destination for cannabis consumption, merchandise, and more.
The smoking area impresses with both indoor and outdoor options.
The shop's spacious design ensures a comfortable and unhurried shopping experience.
Top 3 – Best Buds
| | |
| --- | --- |
| NAME | Best Buds |
| MAIN ADDRESS | 3rd Fl, Korean Town, Suk Chai Alley, Klongton Nue, Khet Khlong Toei, Bangkok 10110, Thailand |
| OPENING HOURS | 10:00am to 12:00am |
| PHONE NUMBER | +66840570450 |
| PRICE RANGE | From 450 THB to 750 THB |
Why should you visit this Sukhumvit Dispensary?
Best Buds boasts a collection handpicked from Thailand's finest cannabis growers.
Their loyalty program is a boon for regulars, offering special deals and perks.
Stay updated with their digital menu, featuring live inventory and detailed strain insights.
Best Buds emphasizes customer education for a well-informed cannabis experience.
The shop's ambiance strikes a balance between elegance and friendliness.
Top 4 – Cloud Nine
| | |
| --- | --- |
| NAME | Cloud Nine |
| MAIN ADDRESS | 221 Sukhumvit Road, Khlong Toei Nuea, Watthana, Bangkok 10110, Thailand |
| OPENING HOURS | 10:00am to 02:00am |
| PHONE NUMBER | +66806433420 |
| PRICE RANGE | From 450 THB to 900 THB |
Why should you visit this Sukhumvit Dispensary?
Cloud Nine is a standout for its stunning interior and exceptional cannabis offerings.
They lead with transparency, providing detailed lab results for all their products.
Discover something new with Cloud Nine's ever-changing seasonal selections.
Their limited-time promotions offer great value, adding to the shopping experience.
Perfectly situated in the city's core, Cloud Nine is an easy stop for city explorers.
Top 5 – The Dispensary
| | |
| --- | --- |
| NAME | The Dispensary |
| MAIN ADDRESS | 571 Sukhumvit Road, Khlong Tan Nuea, Watthana, Bangkok 10110, Thailand |
| OPENING HOURS | 10:00am to 09:00pm (10:00pm during the weekend) |
| PHONE NUMBER | +66632292979 |
| PRICE RANGE | From 500 THB to 900 THB |
Why should you visit this Sukhumvit Dispensary?
The minimalist design of this dispensary puts the focus squarely on their exceptional strains.
Benefit from each visit with their rewarding loyalty card system.
Its location near key cultural sites makes it an essential visit for cannabis-loving tourists.
Their award-winning cannabis strains showcase their dedication to superior quality.
Explore their unique line of cannabis-infused skincare products for a natural beauty boost.
Navigating Sukhumvit's Cannabis Scene: Tips and Etiquette
Exploring Sukhumvit's cannabis landscape can be an exhilarating experience, especially if you're well-informed and respectful of the local culture and laws. Here are some tips and etiquette guidelines to help you navigate this vibrant scene with ease and safety.
Familiarize Yourself with Sukhumvit's Layout: Sukhumvit is a long road with many sois (side streets) branching off. Each soi has its own character and may house hidden cannabis gems. Take time to explore these areas, but always keep a map handy to navigate back.
Understand the Neighborhood Dynamics: Sukhumvit is a mix of upscale areas like Thonglor and more bustling spots like Nana. Cannabis culture and acceptance can vary between these neighborhoods. Be more discreet in conservative areas and enjoy the liberal ambiance in the trendier parts.
Visit During Local Events: Sukhumvit often hosts events where cannabis culture is celebrated more openly. Plan your visit around these times to experience the area's cannabis scene at its most vibrant.
Engage with the Local Cannabis Community: Sukhumvit is home to a diverse community of cannabis enthusiasts. Engaging with locals at dispensaries or cannabis-friendly cafes can offer valuable insights and enhance your experience.
Be Cautious with Public Consumption: While Sukhumvit is more liberal, public consumption of cannabis can still attract unwanted attention. Consume discreetly, especially in less crowded sois or private venues.
Leverage Sukhumvit's Culinary Scene: Pair your cannabis experience with Sukhumvit's diverse culinary offerings. Many restaurants and street food stalls in the area can provide a delightful gastronomic experience, especially after enjoying cannabis.
Stay Informed on Dispensary Specials: Sukhumvit's dispensaries often have specials, events, or new product launches. Follow your favorite dispensaries on social media to stay updated on what's new and exciting.
Respect the Blend of Cultures: Sukhumvit is a melting pot of cultures. While engaging in the cannabis scene, be respectful of the diverse backgrounds and beliefs of both locals and expats you encounter.
Use Public Transport for Exploration: Sukhumvit is well-served by the BTS Skytrain, making it easy to hop between different areas. Utilize public transport to explore different dispensaries and cannabis-friendly spots safely.
Be Mindful of Nearby Tourist Attractions: Some parts of Sukhumvit are close to major tourist attractions. Be extra mindful of your cannabis use in these areas to maintain a respectful and responsible image as a visitor.